We have over 50 years experience in the timber industry and about as many years experience chasing trophy Ohio bucks! All of our properties are private Ohio land that we either own or have leased for many years. We mange our land trying to maintain as many trophy whitetails on our properties as possible. This means we practice quality deer management and encourage all our hunters to do the same.
One thing that separates us from the other outfitters, is that we run wireless cameras and have actual pictures from those cameras automatically posted on our site. This gives you the ability to actually see what caliber of deer we have on our properties.
Not only are these cameras great for monitoring the deer herd and become very addicting, but probably as important, it keeps people off our properties. Everyone knows these systems transmit the images to us directly from miles away and we get notified immediately, so they try and avoid our properties at all costs.
Click here to view one of our cameras online. We try and keep a couple of cameras online at all times so you can see what is out there.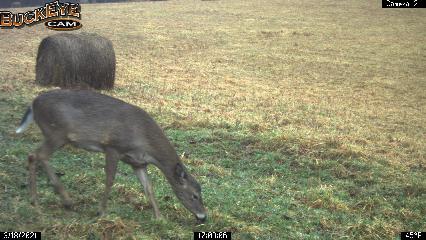 Wolf Creek Outfitter focuses mainly on the Ohio archery season but we do offer a limited number of gun hunts every year on some of our Ohio properties. Most of our land is designated as bow (archery only) and will never see any gun hunting pressure at all.
We do require that all bucks harvested at at least 130" or better and mature bucks. We will cover this in detail upon your arrival or if you have any questions just let us know prior to booking. In order for us to be successful year in and year out we have to let the younger bucks walk. This is how we manage to harvest so many Ohio giants every year.
We expect our hunters to be fully prepared for any weather and hunting conditions. It is Ohio deer hunting after all so it is possible to be snowing in the morning and 50 in the afternoon. So just try and be prepared for everything.
We feel scent control is a very important part of our success on killing big Ohio bucks every year. So be prepared to be scent free (or at least as scent free as possible).
It takes stand time to kill trophy bucks. You should expect to spend the majority of your time in the stand if you really want to take a big Ohio buck. We are hunting bucks that are 100% wild and they are not easy to harvest. Ohio bucks can be extremely elusive at times so stand time is what it is going to take to kill one.